InSum.net 【Make Offer】
2023. 6. 23. 16:15ㆍDomainFreeze/NET
InSum means "to sum up" or "in summary" in English and "to be in" or "to be involved in" in Latin.

InSum is the shortest phrase to express the meaning "summary" or "essense." in spoken English.
Therefore, InSum can be used as thebrand name for curation services / newsletters / blogs.
인썸, 인섬 (InSum) 은 요컨대 혹은 요약해서 라는 뜻으로 영어로 요약이나 큐레이션 관련한 표현 중 가장 짧은 영어 표현입니다.
또한 한글로 "인썸" 으로 표시할 수 있어, 간결한 한글표기와 쉬운 한글발음으로 한글로 브랜딩 하기에도 적합한 이름입니다.
따라서 큐레이션 관련한 서비스 / 뉴스레터 / 블로그 등에 사용하기에 적합한 좋은 이름이라고 생각합니다.
Make Offer on This Domain Name at Sedo.com
SEARCH ENGINE VERIFICATION (구글 조회수)
62M keywords searched in Google.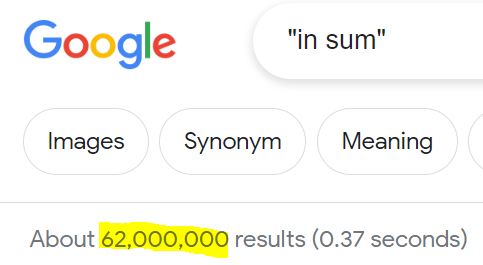 THE OTHER DOMAINS OR DOMAIN EXTENSIONS ALREADY TAKEN
이미 선점된 다른 도메인 혹은 도메인 확장자 리스트 (일부)

CONTACT
( Buy safely and securely with Sedo.com or Escrow.com )
문자 O1O-888O-OOOO
(메일이나 문자 주시면 답변드리겠습니다. 네고가능합니다)
Make Offer on This Domain Name at Sedo.com