StillWeb.com 【Make Offer】
2023. 7. 14. 16:19ㆍDomainFreeze/COM
StillWeb is the best fit for the website for movie stills or company naming for web design or solutions.
스틸웹 (StillWeb) 은 영화스틸 사이트나 웹솔루션 회사명으로 사용하기 좋은 네이밍입니다.
Make Offer on This Domain Name at Sedo.com
SEARCH ENGINE VERIFICATION (구글 조회수)
77.3K keywords searched in Google.
"Still Web" 의 구글 검색가능한 글 수는 7만 건이 넘습니다.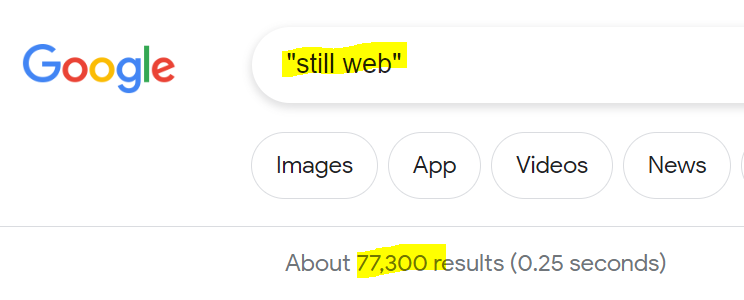 CONTACT
( Buy safely and securely with Sedo.com or Escrow.com )
문자 O1O-888O-OOOO
(메일이나 문자 주시면 답변드리겠습니다. 네고가능합니다)
Make Offer on This Domain Name at Sedo.com